Jan 28 2013
I made myself get dressed on Saturday. Sometimes, when I want to sew, I don't get dressed. I stay in my pajamas all day. I am working, assembly line style, on Valentine's Day wall hangings. I keep thinking of more people that might like to have one. I am making 6 but am already thinking that I should have made one for my mom and my mother in-law.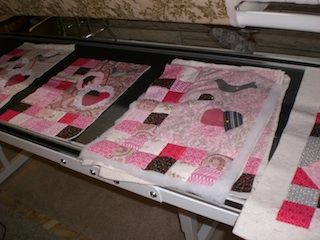 It is Monday and that means getting book work for our business done or at least acted on. This time of year is full of filing W-2 forms and other tedious tasks. I would rather be sewing! or on the Internet with my buddies.
I'm taking a break to participate in More About Me.

Here are the Questions:
1. On a long road trip do you prefer to be the driver or a passenger? Or do you prefer to travel a different way all together?When traveling with my husband, I prefer to leave all the driving to him. He prefers it that way. I am lulled to sleep as we travel down the road.
2. Do you use a slow cooker? Favorite thing to make? When I cooked, I used a slow cooker. I made pork chops and sliced potatoes covered with mushroom soup.
3. Which type of festival would you rather go to… Wine and Food, Music or Sports? I would rather go to a sporting event. I can't believe I am saying that!
4. What is your favorite fallacy? Put on your big girl panties.
and now for my question…
5. Do you prefer coffee or tea? I am a coffee drinker, all the way!