Nov 20 2012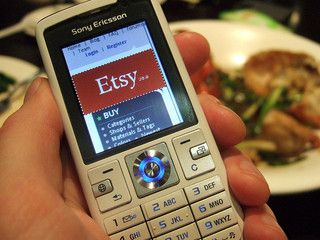 If there's one thing people love, it's a good bargain. Shopping online can be a stressful experience, whether you're looking for inspiration or know exactly what it is you want; there are so many distractions and variations that sometimes you just want to slam your laptop shut in a fit of frustration! Etsy combats these common feelings of consumer woe with utter wonder, as the pleasures of discovering so many visual treats in one place is nothing short of captivating. It's a hive of creative minds showcasing some of the best homemade and vintage bits and pieces on the net, from candelabras to crock pots and from cravats to cupcakes.
The feverish demand for vintage clothing and home-wares is at an all time high, with charity shops and independent stores making a fair percentage of their profit from up-cycling treasures from times gone by. Even big high street names such as Urban Outfitters and Topshop have begun to stock brands solely dedicated to rejuvenating old pieces from as early as the 1950's, to create original garments with a slice of contemporary influence.
Handmade is big news too, in no small part thanks to the rising demand for eco-friendly goods over mass-produced, mass-polluting products from the high-street. Etsy nails both of these markets in one – here are just a few of the reasons that we're falling in love with this booming online retailer…
Clothing
If you're looking for one of a kind fashions for either men or women, Etsy will have you covered. From vintage frocks to hand-crafted handbags; these high quality wares are testament to the love that the Etsy community shares for creating and innovating. You can find vintage classics and seasonal trends with an original touch, all lovingly hand-crafted or cared for. Kids are also catered for, with an adorable range of clothing for all ages sure to keep your little ones toasty this winter.

Home Décor
Whether it's a vintage tea set or a recycled baroque dresser, you'll be spoilt for choice in the home wares section. It's so easy to find a statement piece that'll add a real edge to any room, something no one else will have rather than an off-the-rack piece from IKEA that's sitting in a thousand different lounges across the country. Plus, it's also nice to get your creative juices flowing and be inspired by all the little projects you could take on yourself!
Art
If your purse strings won't stretch to the likes of the original works by the likes of Monet and Picasso, that doesn't mean you can't still own a one-of-a-kind, beautiful creation! In the Art shops you'll find sculptures and paintings from a range of Etsy's resident artists. Some of the items on sale exhibit examples of real talent and it's always nice to encourage independent artists by endorsing their pieces with a 'favourite' or perhaps even hanging it in your bathroom?
Jewellery
Etsy is your one-stop-shop for all manner of trinkets for the ones you love, or just a pretty little something for yourself! You can find personalised gifts, original designs and one of kind treasures that form the perfect accessory to any outfit. From the subtle to the statement, this collection of wearable curiosities will suit any taste and any budget. If you have an Etsy shop you'd like us to know about or just stories of great finds, share your thoughts in the comments below.
Estelle Page is a green-fingered interior designer with an unparalleled love for arts and crafts. She is an avid blogger and often writes for Goodheart Gifts when she isn't running around after her kids!
Comments Off on The Rise Of Etsy –The Crafter's eBay