Jan 31 2017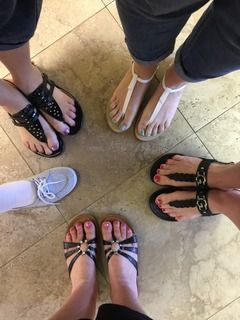 I feel like I have been in a time warp! I have been away from most media and political messes because we went on a cruise to Labadee, Haiti, San Juan Puerto Rico, St. Martin and St Kitts. We had beautiful weather, awesome food and wonderful company.
Hubby and I met up with my mom, my two sisters and our daughter for a cruise from Ft. Lauderdale, Florida. I discovered that two of my favorite quilting instructors were teaming up to teach new quilt designs and techniques while cruising. I had to sign up. It didn't take much to talk my mom and sisters into going. My hubby and daughter tagged along to get out of the cold weather. They don't sew.
On the days that we were out to sea, we sewed. Our machines and fabric were provided. We only had to bring a few small sewing items. The first instructor we took a class from was Jenny Doan from Missouri Star Quilts. She is so funny and is a wonderful instructor. She has many youtube videos that teach easy and quick quilting techniques. The second class instructor was Lynne Hagmeier from Kansas Troubles Quilters. She is a fabric designer and teaches raw edge applique. I love her fabrics and have made a few things from her patterns.
On the days we were in each port, we were able to explore. We checked out the guitar center shop, jewelry stores and souvenir vendors. We tasted local food and were greeted by friendly smiles in each port.
We took an excursion to the rain forest in St. Kitts where we spotted a monkey! They are usually high up in the forest so we were lucky to see that guy. We were shown plants and how they are used to cure ailments. I loved seeing the banana trees. Each port was so clean and smelled of flowers. We learned a lot about the history of each port. I wish I could remember all the trivia we were given.
John Newton authored the well known song, Amazing Grace. The Amazing Grace Experience is
located in Crab Hill, Sandy Point and is just 11 miles from Basseterre, St. Kitts. Housed in the Lighthouse Baptist Church, minutes away from Brimstone Hill Fortress, the experience tells the story of how a man changed his life and was inspired to write a song that means so much to many people.
Comments Off on Cruising in the Caribbean