Jan 20 2012
I have this coffee table that drives me crazy. It has a glass top that is a pain to keep clean. I have made quilted table toppers for just about every season and needed one for Christmas. It saves my sanity by keeping the coffee table covered in a pretty quilt.
I found this fun pattern at the Moda Bake Shop.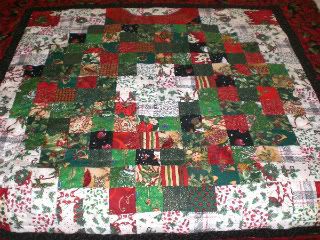 All the colors work together to form a beautiful Christmas wreath. (They also hide all the sprinkles when I eat a Christmas cookie)!