Jan 15 2013

It's one of the pitfalls of being a crafter handy with a sewing machine – you constantly end up with scraps of fabric cut off from your larger projects. I may just bin the trimmings, but it seems so wasteful to be throwing away larger bits of fabric. I could save them to use in a patchwork, but occasionally the fabric just won't fit with my color scheme. What then?
Here are a handful of mini-projects I've come up with to use up my fabric scraps, all of which can be done in an hour!

1) Pincushion
Is there anything more apt to make with scraps than a pincushion?
Simply cut out two same-sized squares of fabric, place the squares on each other with the insides facing out, pin and sew edges, leaving a gap to poke stuffing in. Turn the right way out, fill with your choice of fiber stuffing, and then hand-sew the gap closed. Add any adornment you want to finish – buttons, bows and frills look especially cute.
2) Coffee Cozy
Never burn your hands again on too-hot takeout cups – these make great gifts for coffee lovers too!
Simply grab a cardboard cup holder from your favorite coffee shop, undo where it's stuck together, and use this as a pattern. Cut ¼in around the cup holder on 2 pieces of fabric and a liner fabric to insulate – fleece or felt works well.
Place the two fabric sides together, insides out, with the insulting layer below and pin together. On one end, place a thin elastic hair band between the inside and outside layer. Sew up, leaving a gap to turn the cozy the right way out. Turn the right way out, and then sew up the gap you left. Hand-sew a button onto the opposite end to the elastic loop, about 2 ½in in from the end.
Hint: Love the idea but no fabric scraps around? Try a knitted version!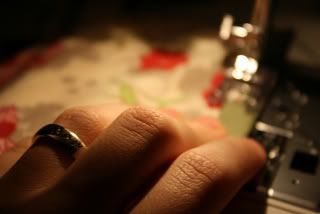 3) Appliance Cord Tidy
If you're always finding your appliance cords tangled up – even if you put them away with the cord perfectly wound up and tidy – this is a great craft idea for you. It secures the wire around the handle to keep it need and tidy.
Roll up your appliance cord around the handle, and then take a measurement around. Cut a strip of fabric this length plus 2 ½ in, and about 3 in wide. Fold the strip in half lengthways, iron, open it up, and then fold the two long edges into this center seam. Fold over the ends of the strip by ¼ in, and sew. Fold the strip in half along the crease, and then sew around the edges. Add a 2 in strip of Velcro to either end – either sew-on or iron-on.
Wrap around both cord and handle to keep together – great for irons, handheld electric whisks and even hairdryers!
What do you do with your scraps of fabric?
Estelle Page is a mum of two, interior designer and master crafter! When she's not sewing a new pair of curtains for her ever-changing home, you can find her writing for Out There Interiors.
PLEASE NOTE: This is a personal blog. Any comments made, that include links to advertise your business or website will be deleted. Only real names will be accepted in the Name box.
3 Responses to "3 Simple Things to Make With a Scrap of Fabric"
Nice article. made a pincushion one when i was a teenager and my mom mistaked it for a rubbish and threw it away 🙁
Yeah I wasnt that crafty back then. The coffee cozy once I'll try.

Thanks.
Cindy´s last blog post ..Cat Grooming 101

Oh, right, the coffee cozy might be the definitive answer to my troubles! haha love it!
Luce´s last blog post ..Amnesia Custom Story: Get Out In Four Minutes

The pincushion really looked nice (if I were a pin I'd stay in there forever). Sewing, as labour-intensive for others, is really a work of love. I had mine when I was in Junior High, and from there I knew what I wanted to become. I usually collect and create floor mats from my fabric scraps.
PLEASE NOTE: This is a personal blog. Any comments made, that include links to advertise your business or website will be deleted. Only real names will be accepted in the Name box.