May 23 2011
Our little friend, Maddie, always says "stitches" instead of "itches". Well, this stitches. Last weekend's fishing trip turned into a nightmare of biting gnats. I have been going from website to website to figure out what the heck has invaded southern Indiana. What I discovered is that gnats have over populated due to flooding the past couple of years. They have been killing deer and birds and making other animals miserable. They made hubby and I so miserable that we came home a day early from our fishing trip. We wore netting but wherever we had a seam, the gnats found a way in to attack our skin. Bug spray offered no relief.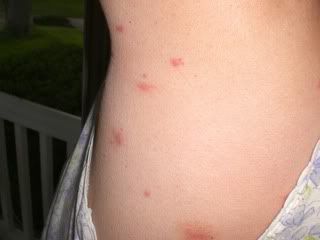 PLEASE NOTE: This is a personal blog. Any comments made, that include links to advertise your business or website will be deleted. Only real names will be accepted in the Name box.
7 Responses to "It Stitches!"
Ouch!!!! By gnats do you mean black flies? Here in NY, black flies are the PLAGUE. When we visited Virginia last week, we were shocked to walk through a forest without any bugs! Bugs usually seek me out, and I saw maybe a couple– but in NY as soon as I step outside, swarms of black flies divebomb after me.

I think we need to legalize DEET again, before the insects wipe out the human population. DEET is the only insecticide that will repel the bugs.
Rebecca´s last blog post ..How to Locate Missing Software

No, Rebecca, they are not flies. They are gnats. We used bug spray containing Deet and it did nothing to deter them. It was awful.

#

Grace

on 24 May 2011 at 8:36 pm

omg! hope that doesn't make you sick 🙁

Ah, the dreaded gnats. I grew up with my mother calling them "no-see-ums" (not sure if that's the right name) and then found out how awful gnats really are when we moved to Florida.

There's special netting that keeps them out. However, if the seams aren't sealed… yeah, the gnats find a way through the stitching.

Go to any camping supply store — EMS, for example — and ask them about sealers. There are products sold to seal tent seams, usually to keep water out, and the lightweight sealers can also be good for sealing gnat-proof netting. Ask the store staff for their advice.

I'm not sure how "okay" it is as a healthy alternative to bug spray, because I think it's petroleum-based, but when we lived in Florida, we had good luck using a dilute mix of Shaklee's Basic H as a bug spray alternative. Spraying it on the netting seemed to keep the gnats at a distance.

The combination helped us in Florida. There are probably some good natural sprays (maybe a marigold + water mix?) that you could use — along with sealing the netting seams — to make the outdoors a lot more fun when you have to share it with gnats.

(Until we found those kinds of solutions, I liked a salt + water paste on the bites, afterwards, to draw out the itch/sting. It shortened the amount of just-plain-miserably-itchy time.)
Eileen´s last blog post ..Health Food &amp Home-made Products

Oh, no! Not during your vacation!!! Rebecca is right about the black flies here in NY…they only come out during May, stay around for a few weeks, then die until next year. I wonder if it is the same thing ?

#

Fern Moore

on 29 May 2011 at 10:12 am

Ouch, they look painful and really itchy! Gnats are a nuisance, i suppose it all depends on what spray you buy. I hope you're better now 🙂

Fern's latest blog .. How To Be Tall

Eeks.. reminds me of when I went to Cairns, Australia… the mosquitos feasted on me. I counted 75 bites on me when I left. Fortunately none of them had any tropical nasties.
I don't trust deet though, it can't be good for you.
PLEASE NOTE: This is a personal blog. Any comments made, that include links to advertise your business or website will be deleted. Only real names will be accepted in the Name box.