Aug 18 2016
We spent last weekend with our daughter who lives in Tennessee. Our days were full and enjoyable. We spent a day in Knoxville, visiting the site of the 1982 Worlds Fair.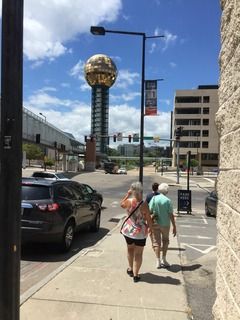 We rode the elevator to the observation deck of the Sunsphere. The Sunsphere is a hexagonal steel truss structure, topped with a 23 m gold-colored glass sphere that served as the symbol of the 1982 World's Fair. The view from the deck was amazing. We looked over the grounds that included a tented area where concerts are held, green areas for picnicking and beautiful fountains. We could see children running through the fountains to get cool on what was a very hot day.
We walked through the large Farmer's Market, looking at eggplant, herbs and other delectable foods. There were soaps as well as many other homemade items. It would be nice to live close to a huge market like that one.
We visited Mast General Store. It is known for its vast supply of hard candy. One section of the store was barrels full of candy! They also had cookbooks and cooking utensils. If you need hiking supplies, Mast has it. From clothes to shoes and backpacks, they have quality goods for the serious packer.
We ate brunch at the French Market Creperie. I can honestly say that was the best crepe I have ever eaten. It was well worth the 45 minute wait.