Mar 24 2015
I have been quilting for customers and finished these quilts.
I used the Tulip Festival pantograph by Lorien Quilting and King Tut Pharaohs Tales variegated thread in top and bottom to quilt this.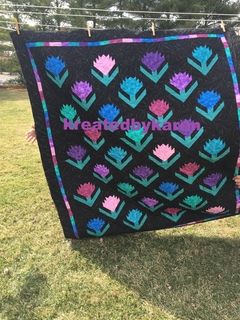 Back of the black background, flowered quilt.


I used a circle ruler to make continuous curves on this quilt.


A friend made this quilt using the Missouri Quilt tear away method to make her blocks. She will be donating this quilt to a group that gives them to needy families.


The quilt below, gave me fits. I had quilted the cherries and decided I didn't like the stitching. I tore out the stitches and wet the red fabric to get the stitch holes out. The red dye ran onto the backing fabric. Ugh. With the clients permission, and more red fabric, (which I washed), I made new cherries and used a blanket stitch to finish them. While the cherries were removed, I washed the area by hand and was able to remove most of the red discoloration. Most of the thread used was Superior Omni, color buff in the top and bobbin.