Jul 09 2016
After having the kids and our grandson here for a visit and then having our daughter come home to run a few 5k races, it is time to get back to normal. That means pulling neglected weeds and mowing grass.
My petunias have gone to pot. I will never buy that kind of plant again. I see beautiful pots of petunias but they must be a different variety. Mine are long and stringy. The other type stay uniform in size and look full and beautiful. At least my impatiens, geraniums and begonias look healthy. I had a snapdragon come back from last year and is a beautiful red color. I thought snapdragons were an annual.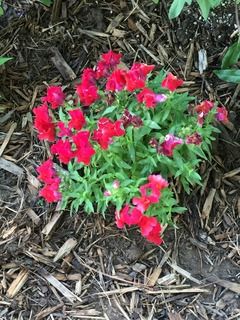 Our daughter is enjoying her new job. Here is a picture of the ladder she used to upgrade the store's Warehouse Lighting. Glad she isn't afraid of heights like her Dad!


She accompanied her cousins, the store owners, to a car show this weekend. That is the type of event I was looking forward to for her to share and take part. She will be in her element for sure!
Have a great weekend, everyone. I'm headed out to push the mower.